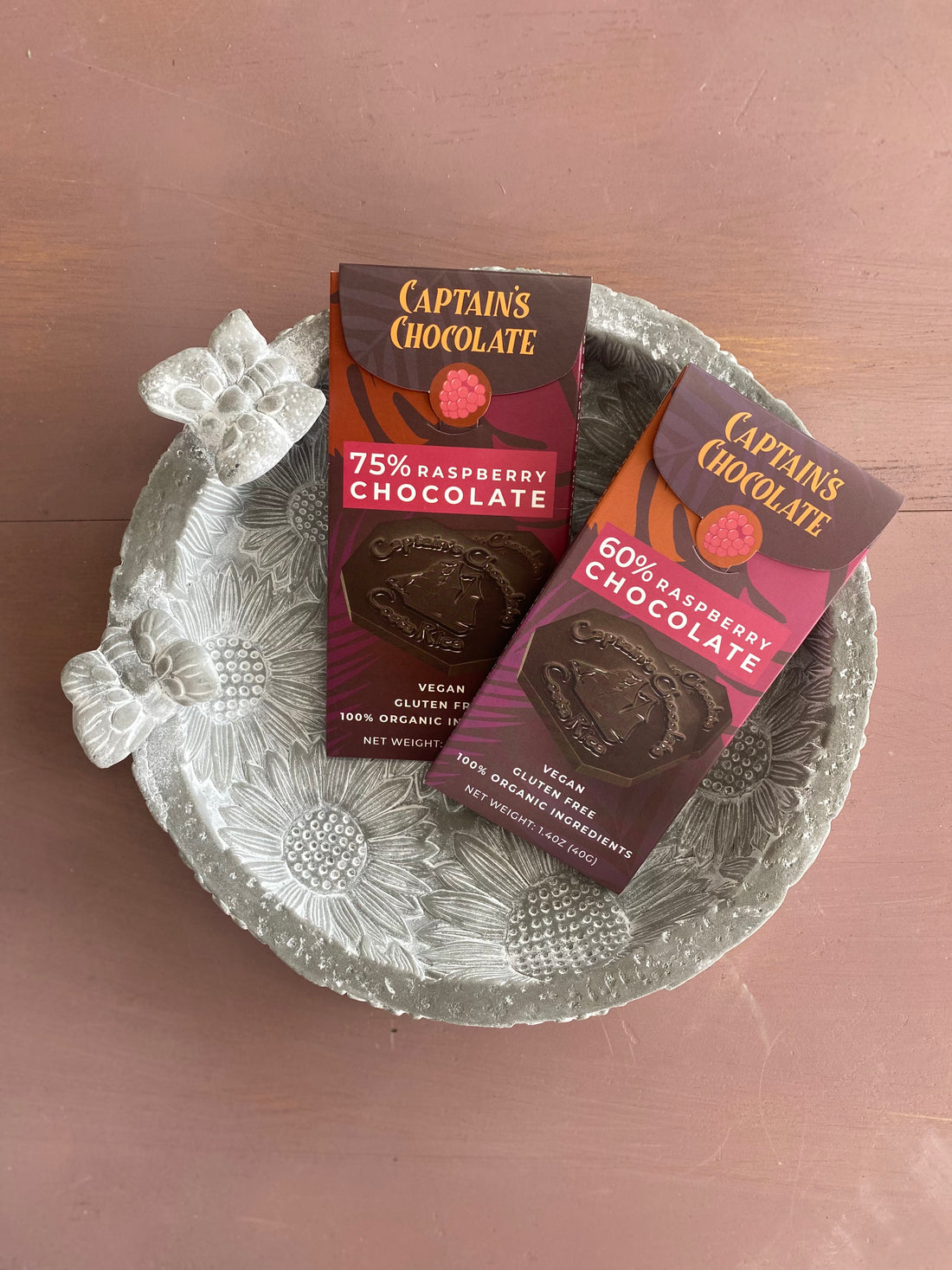 Captain's Chocolate - Raspberry Dark Chocolate
Captain's Chocolate Co. Story:
We are chocolatiers who exports all natural organic dark chocolate bars from high quality Costa Rican cacao beans to the USA for sale. Our bars are cacao and raw organic sugar, very fine dark chocolate.
Captains Cocoa Co. has been in the making for several years now. It started when Mark Roth talked to me about his idea to start a business that would help generate funds to help those in need and also bring benefits to a group of people in the process. After several years of looking into a few things, the decision was made to start a chocolate business.
The business is located on the Caribbean side of Costa Rica not far from the Panama border. What this project entails is buying all natural organic cacao beans from the Bri Bri and Cabecar Indigenous groups. The beans must be fermented, dried, roasted, ground, husks removed, conched, tempered, and molded into chocolate bars. The chocolate is packaged and exported to the United States for sale.
A little information about the Indigenous. Most of them live in recycled wood houses with dirt floors that are very small. Most of them survive on what is harvested off of their land, which isn't much. The Indigenous live under extreme poverty. What Mark and I saw was that most of them have cacao trees (chocolate trees) on their property. These guys are literally sitting on gold mines, we thought to ourselves. The thing Mark and I couldn't figure out was why do they live in such poverty if they were "sitting" on gold mines? After asking Francisco, a good Indigenous friend of mine, what the issue was we knew we had found the business that was a perfect two-way street named Benefit Lane.
There is one company that is buying the cocoa beans from all the Indigenous. That sounds great, but the company is exploiting the Indigenous. They pay the Indigenous 60-70% less than market price while turning around and exporting the product to Europe and making huge profits at the expense of the blood, sweat, and tears of the Indigenous. The Indigenous really have no other alternatives other than selling to this corporation because it enables them to buy a few staples they aren't able to produce. This is where Captains Cocoa Co. believes it can be effective in making a difference that will not only honor the Indigenous knowledge about cacao farming but encourage them to work even harder to produce their quality product.
One of the goals of Captain's Cocoa Co. is to give the Indigenous an opportunity to move out of the poverty level into a higher social class where they can give themselves and their children a better future. Talking to them quickly reveals they want to give their families a steadier and reliable income. One of the ways we accomplish this is buying their beans at over double the current price they are paid from the other corporation. This encourages the Indigenous to really work their plantations to get the maximum production so they will be able to earn more money. Respecting and treating others fairly creates a great working environment. This business has allowed us to build strong relationships with the Indigenous and has allowed us to get to know and experience a different culture while building relationships.
There is much more to this project than I have shared, but this is just the beginning of something that Captains Cocoa Co. believes will not only change individuals but impact generations to come. This is a unique business because we not only offer customers a quality all-natural organic product. You, the customer, helps Captains Cocoa Co. give something back to the cacao farmers and their families in Costa Rica.